Blue Venture

Guiding you to solid diving around the world

Blue Venture is a dive travel agency offering a wide range of unique destinations, each carefully chosen by combining the current trends in diving and travelling in order to satisfy both above and below the water line.

Behind Blue Venture is one of the largest networks connecting some of the most experienced divers and their many years of personal experience in teaching, travelling and developing the dive industry!

Our dive operators

Choosing the right partner is just as important as choosing the right destination. All our dive operators are carefully hand-picked for every single destination. We have looked at the exact location of the facility, the logistics of the diving and the management of the dive centers and combined it using criteria that mean something to us.

Our partners are chosen because they are able to create a unique operation and fulfill our personal demands for high quality.

Our Product range

You can't expect all dives to be in crystal clear conditions, and you can't expect the marine life to be present just because you are. But you can guard yourself against disappointment by following the guide lines in our product line.

All destinations are chosen because the diving at this particular location represents the apex of diving in the region. The marine life, the dive center and the general atmosphere are the key factors. We are fussy about keeping it simple and limit the products to the destinations that we know are worth traveling to.

Booking with our agents

Our destinations are only sold through well renowned travel agents and European dive centers. It is solely decided by you, the customer, who handles your request.

For example, an inexperienced traveler, but experienced diver might focus on the comfort and travel advice of a travel agency rather than the professional advice on diving from a local dive center.

At all times, the choice is yours. Make your request!

The Blue Venture Team

For booking please use the request form.

For general questions and inquiries regarding Blue Venture products, please contact any of our agents.

For general administration only
Email: info@blueventure.net
Tel.: +45 7025 3366 (09:00 - 17:00)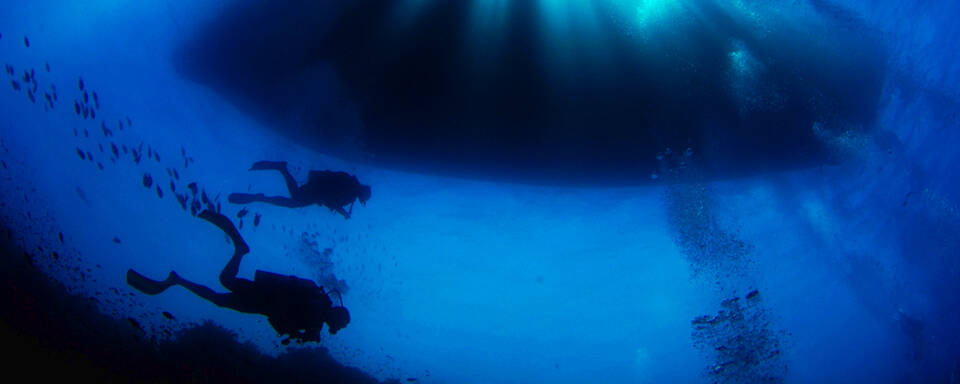 Our photographers
The ocean is what inspires us…

We hope that we, our friends and professional playmates will inspire you!

Underwater photography is a specialized art. To get close to your subject you must be a fish amongst fishes, work the art of limitations with natural and unnatural light, animal behavior, seasons and buoyancy. The trick is to simply spend huge amounts of time underwater, something we can relate to! Throughout our website and brochures, you find awesome photography provided by world class underwater photographers, all inspiring through different styles and subjects. We hope this makes you crave another dive… Nothing beats a day in the ocean…

Jesper Kjøller (Denmark)

Editor, Dive Magazine, Denmark

Full time employed as Managing Editor at DYK – The Scandinavian Dive Magazine.

Jesper's underwater photography and articles about dive travel has appeared in several diving magazines, newspapers, books and websites all over Europe. He's been working professionally in the diving industry since 1994 as a dive store manager, diving instructor, PADI Course Director and GUE instructor.

www.dyk.dk www.coursedirector.com

Mikkel Noe (Denmark)

Medallist at Danish UW photo championship

Being extremely passionate and patriotic about his diving, Mikkel is the heartbeat of the photo-enthusiastic dive club "Bunden". Building an extensive portfolio from numerous dives in Norway, Egypt, Mexico, Saudi Arabia and the homey waters of Denmark, Mikkel's pictures has let him enter and qualify in several competitions and events.

Having graduated as an architect, Mikkel brings an esthetic clean storyline into his photography by making the viewer an engaged spectator.

www.noe-nygaard.dk

Erich Reboucas (Brazil)

Owner of the UW photo company, Acquapictures

Being born in Brazil, Erich has spent the last 9 years in the dive industry working as a full time instructor in countries like Brazil, Cape Verde, Mexico, Bahamas and currently Sharm el Sheikh, Egypt for the last 5 years.

He has dived and photographed in countries like Cuba, Dominican Republic, Indonesia, Malaysia, Thailand and Bonaire. His pictures are published in magazines in Egypt, United Kingdom, Iceland and Russia and are frequently used by CDWS (Chamber of Diving and Water Sports in Egypt).

www.flickr.com/acquapictures

Fabrice Dieudonne (France)

Instructor and Dive Center Manager, Thailand

Based in Thailand, managing a small dive center, Fabrice is regularly diving in Indonesia, Malaysia and Australia. After some first experiences with skin diving and diving in the cold water of west France in his teens, it's in the warm waters of the Indian ocean in the late 90's that his passion for diving and the underwater world took shape.

Teaching and working in the diving industry since 2000, underwater photography became a natural continuation of his interest. We are thankful for that!

www.fabdieu.free.fr/pics

Luke Inman (United Kingdom)

PADI Course Director and full time photographer

Originally from Great Britain, Luke is an experienced lighting cameraman and fixer. He has worked with the BBC Natural History Unit, National Geographic, Lucas Films, Castle Rock Entertainment, The Monterey Bay Aquarium, Warner Music, Discovery and Animal Planet.

Luke is a PADI Course Director and holds Instructor trainer qualifications with several tec agencies, including a Commercial Diving Qualification from United Kingdom's Health & Safety Executive.

www.lukeinman.com www.adoptashark.com

Erik Larsson (Denmark)

Dive instructor with a heart for Indonesia.

Being a Swedish Viking, Erik started his diving in a cold and unfriendly Scandinavian lake. From the very beginning, his dives in these dark waters were with a camera in his hand. As the addiction gained strength, he started traveling, working as a dive instructor and taking pictures just for fun.

Erik has worked and photographed in countries like: Germany, Malta, Spain, Croatia, Egypt, Thailand, Malaysia, the Philippines, USA and Indonesia… His favorites being Indonesia and the wrecks of Malta - We can't blame him for that!

www.rhinopias.dk/

Henrik S. Rasmussen (Denmark)

High-class UW photographer.

Started diving a couple of years ago and been an eager underwater photographer from the very beginning.

Not too fond of cold waters and dives mostly in tropical waters on diving holidays severel times a year. Been diving places like Denmark, Norway, Croatia, the red sea, Thailand, Borneo and Indonesia.

Henrik Hedegaard (Denmark)

Divemaster, UW photo- and cinematographer.

Been diving since 2009, mostly in Scandinavia, The Red Sea but found his passion for diving in South East Asia during his divemaster in 2011 in Pulau Weh.

Favorite subjects include all the litte scary and odd critters on the seabed as well as UW landscape photography.

Also, non-executive director of Blue Venture Diving.